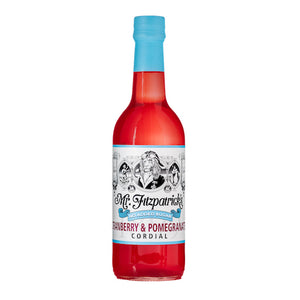 Tantalise your tastebuds for less than 38p per serving!
Add still or sparkling water, use in your Sodastream or use as a mixer or cocktail base. Try served warm for the ultimate Hug in a Mug.
Our finest blend of cranberries, pomegranate and rosehip swirled together, providing an opulent yet refreshing taste, transforming any occasion into a celebration.
Bottle size: 500ml

Ingredient: 
Water, Fruit Juices (Cranberry 10%, Pomegranate 10%), Stabilisers (Glycerine), Acid (Malic Acid), Natural Flavourings (Cranberry Flavour, Pomegranate Flavour), Preservative (Potassium Sorbate), Rosehips, Sweeteners (Sucralose, Acesulfame-K), Antioxidant (Ascorbic Acid)